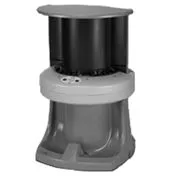 ScanX Digital Imaging Systems provide you with:
Here's How it Works
ScanX 12 is a computed radiography (CR) system. Replacing film, CR utilizes phosphor storage plates (PSP) which are flexible plastic plates coated with an x-ray sensitive phosphor material. Phosphor plates are durable and reusable thousands of times. Upon exposure to x-rays, the plate stores a latent image which is scanned by ScanX 12. Easy to use certified imaging software enhances the digital image to aid you in diagnosis. Save images to your computer for easy retrieval and huge space savings in your office.
Incomparable Ease of Use
One step scanning: insert the plate, just like a film processor.
PSP Technology
Use your existing X-Ray equipment - Reusable Phosphor Storage Plates (PSP) are used for imaging. With proper handling, PSPs may be reused thousands of times.
Efficient Time Management
ScanX saves measurable time. Patent-pending, continuous rapid-feed system. Wait no more - use the extra available time for productive patient treatment.
​ Convenience
Systems are designed to load and operate in normal room lighting.
Diagnostic Quality
Maximum resolution images from faultless technology. 3.8 lp/mm and 5.0 lp/mm resolution available.
In-Line Erase
ScanX will read the Phosphor Storage Plate and then automatically erase it in the same continuous cycle.